The Case
With Thank You, Next quickly becoming the most popular and active online community in Greece, it was clear that the TYN universe was ripe for expansion to other platforms as well. Members were sharing (and consuming) insane amounts of content on a daily basis, starting to realize that their stories deserve more exposure and recognition. At the same time, we were experiencing the late, but sudden rise of podcasts in the country due to the COVID-19 outbreak and the increased investment on them by popular streaming platforms such as Spotify. It became apparent that we had a unique opportunity to keep innovating; this time on an entirely new channel, creating an entirely new format for a familiar franchise.
The Challenge
This is one of the rare times that we weren't presented to a challenge by a client; instead we challenged ourselves to find new, innovative ways to grow an already successful community. So we asked: would a podcast expand the TYN universe in a meaningful way? What's the right way to turn a wildly successful online community into a podcast? Will the audience embrace it or is it going to be a waste of resources? Should we own the whole production or just license the brand name to a team with expertise? Those were only a few of the questions flying around the case, as there was almost zero experience or known cases on successfully expanding and diversifying a Facebook powerhouse to an audio-first platform.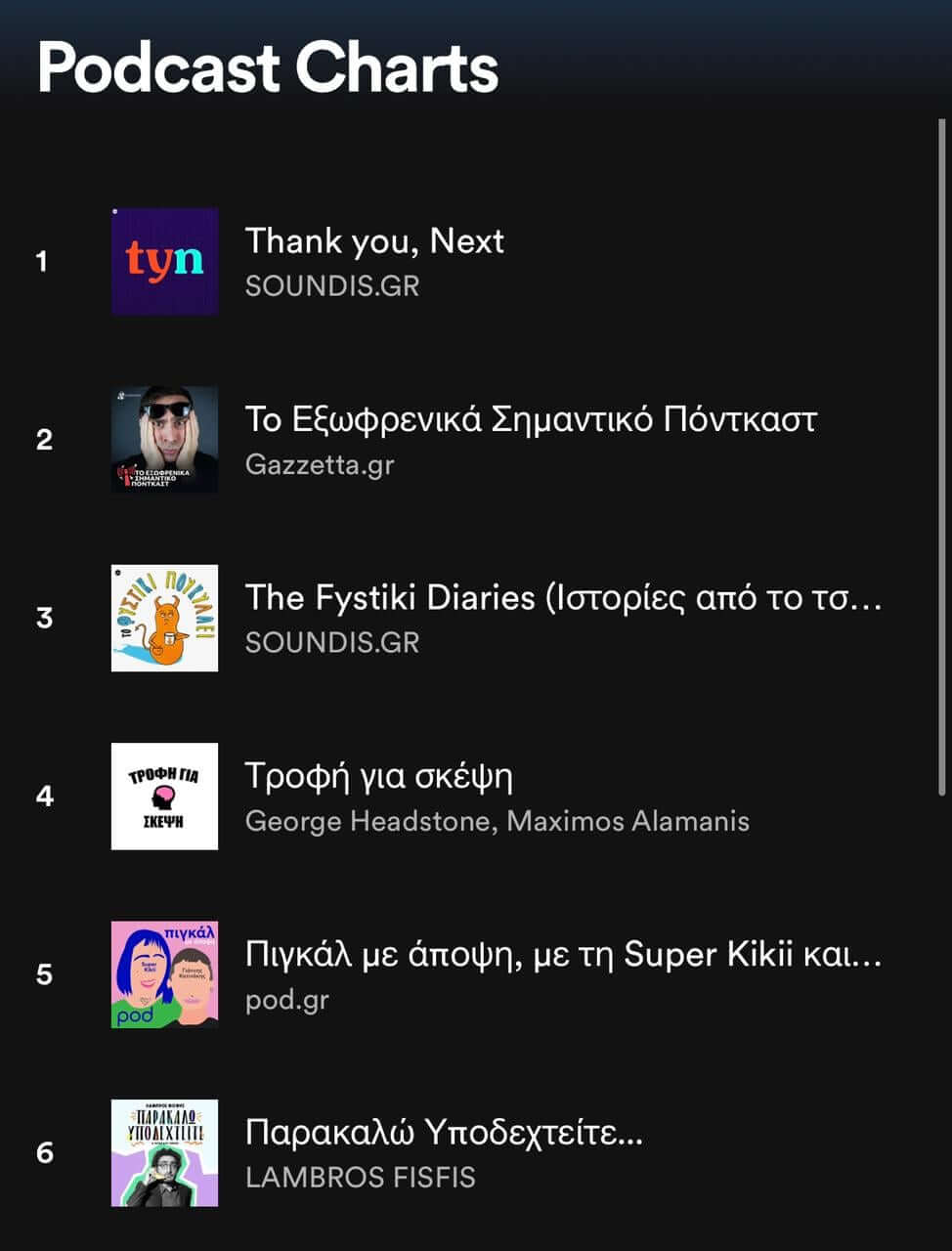 The Approach
First things first, we decided it was only right to do it ourselves. We "dug up" all the available data on audio consumption and streaming services penetration in Greece, making sure that there was actually an audience out there. In terms of content, we agreed on keeping things strictly sound-only. Last but not least, editorially, there was only one way to go: be as close to the original TYN recipe as possible, aka "authentic AF". In that spirit, the founder and the admins of the Facebook group took the role of the presenters, lending a familiar, casual sense to the show, editorial followed the beat of the group and the zeitgeist and as for production values, there was zero compromise: The show is recorded, edited and distributed by soundis.gr, member of the Antenna Group.
The Solution
Thank you, Next: The Podcast aired its first, 30' episode in February 2021, and quickly became a weekly sensation, having a permanent position among the top 10 GR podcasts and even reaching #1 in the Spotify podcasts for almost a month. Boasting a 92% listen-through rate, the pod ventured the whole spectrum of relationships (sexting, dating, one-night stands, breakups), interviewed celebrities & influencers (Fanis Labropoulos, Rania Kostaki, Katerina Zarifi, Silena Triviza) and is now thriving as relationship hotline, providing *scientific* advice to fan heartbreak stories and integrating user-generated content to it, more than ever before. After all, this podcast's mission and unique proposition at the same time, have always been to amplify the community's voice and not to become a licensed, fictional work.
During the pod's short lifetime, our natural curiosity and the ever-increasing competition led us to experiment with several variables (duration, editorial, cover art, promotion), develop limited edition spin-offs (TYN: Dark, Celeb Edition, Xmas Special) and even release tailor-made branded episodes for local industry giants, such as efood.
More than 50 episodes and 270K unique streams later, the show has managed to grow and become an established media entity, maintaining a steady presence among the top independent audio productions of the country.
Thank You. Now Play Next.