The Case
In a time and place where casual, unprotected sex is sadly still a thing, DUO have been tirelessly on a mission to champion and educate on the use of condom, especially among the youth, having their first intimate experiences. Both the DUO brand team and their creative agency 4 Wise Monkeys have been on the lookout for more creative, more impactful ways to deliver their message. This time, noticing the trend getting out of line in front of their eyes, they were looking for a way to infiltrate the ever-growing, niche communities of Facebook. That is precisely where we came into play.
The Challenge
Our mission was to effectively preach the use of condoms to young, online natives, without being overly parental, awkward or cringy. To spark branded, sex-related discussions without the blocking agent of shyness. We knew we had the perfect-match community (Thank You, Next), but we needed to do something honest and unconventional to avoid the "boomer marketing" effect. In essence, no old-school advertising; DUO would have to speak & behave as one of the TYN tribe. Easier said than done.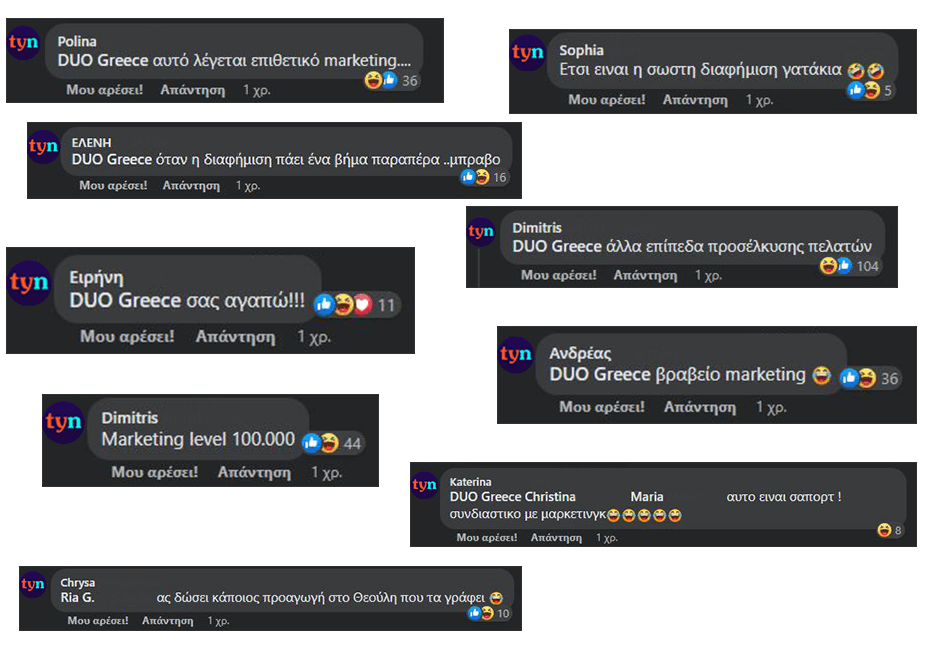 The Approach
Our approach was to position the brand as an "equal among peers", making the sex talk "interent fun", relevant and removing all awkards elements through the careful use of humor. Along with the talented folks of 4 Wise Monkeys, we designed a two-phased branded content campaign: first, DUO would smoothly transform into a member of the TYN community, having its own personality and participating actively (when relevant) in the discussion. After creating some buzz and gaining the approval of the community, we would move the campaign to the brand's playing field, selecting the most appropriate, fun stories and glorifying their narratives in 4K, turning stories and situations into moving picture. All while educating on the practice of safe, yet pleasure-driven sex.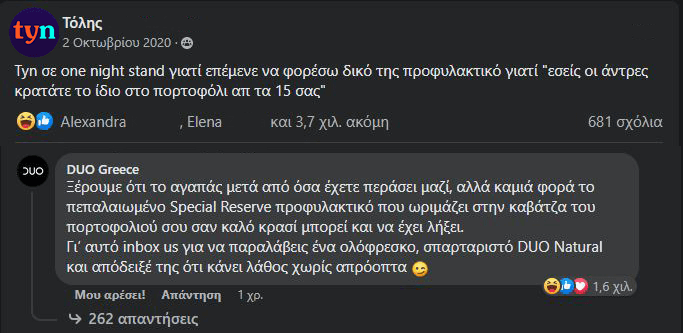 The Solution
Monitoring the vast community 24/7, we singled out all the posts that included references to sex, condoms, protection or pleasure themes and made sure to reply real-time in a witty, yet informative way. And it worked. The TYN community reacted surprisingly well to it, as they never expected a brand to appear in "their safe Facebook Group space", so effortlessly cool, fresh and approachable. Branded comments quickly recorded thousands of reactions and hundreds of replies, keeping the safe sex conversation real and to the point. It is worth mentioning that we noted almost no user feedback complaining about advertising or unwanted content in their turf.
In order to keep the surprise momentum strong and create some campaignable, owned content for DUO, we activated the second phase of our plan. 2 real-life, "condom to the rescue" stories from the TYN community were selected and produced as short online films, making them a rare case of (truly) user-generated branded content in Greece and sparking several conversations inside and outside of the TYN community.
As for the results? More than 19K reactions, 358K video views recorded, and 1.6K user-generated comments devoted to DUO and safe sex-related discussions.
Talk about happy endings.